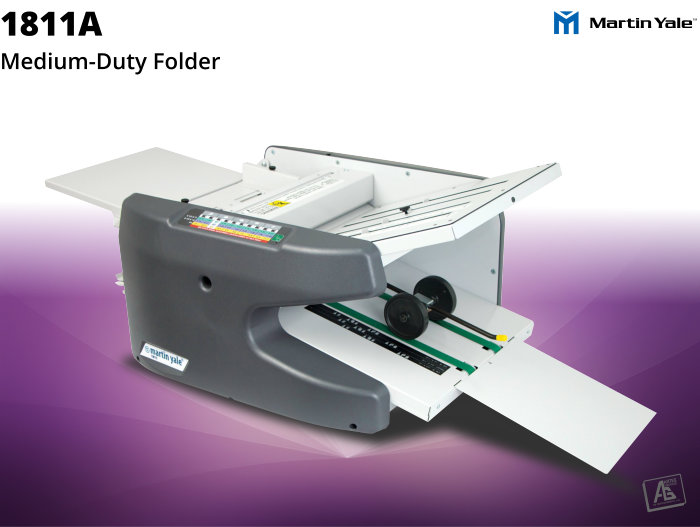 1811
Description
Ideal for use in mail-rooms, offices, churches, schools, businesses and associations.
The 1811 paper folding machine fills the gap between our larger models and the smaller desktop models that we offer.
► Handles paper weight from 16lb. bond to 135# Offset, 60 gsm to 240 gsm
►Operates at a speed of up to 12,000 sheets per hour
► Automatically feeds, folds and collects a stack of documents
►Folds sheet sizes from 4.0" L x 4.0" W to 18.0" L x 11.75" W
►Feed table capacity can hold up to 300 sheets of 8.5? x 11?, 20 lb. bond
►Adjustable 1st fold range of 2" to 11.5"
►Adjustable 2nd fold range of 1.5" to 5.75" allowing for customized folds
►Large rubber rollers provide consistent paper feeding
► Durable conveyor belts create easy-to-handle, fanned stacks
► Will fold stapled sets of up to 5 sheets through the manual bypass
►Fully enclosed, manually adjusted fold tables for quieter operation and improved operator safety
►Manual set up for fold tables
Fold types:
Creates seven different fold types: Letter, Z-fold, Half, Double-Parallel, Gate, Engineering and Church fold

Product Specifications
Max Speed
12,000
Paper Size Range
4.0" L x 4.0" W to 18.0" L x 11.75" W; A3, A4, A5
Paper Weight Range
60 gsm to 240 gsm 16# Bond to 135# Offset
Max Manual Paper Feed
5 sheets
Max Feed Tray Capacity
300 sheets
Automatic Fold Table Setup
No
Automatic Shut Off
Yes
Electrical
115/230v
Product Dimensions
19.5 L x 41.0 W x 14.0 H in (49.5 x 104.2 x 35.6 cm)
Product Weight
81.0 lbs (36.7 kg)